Serdata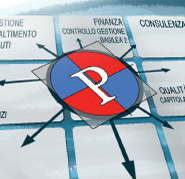 Serdata is a system allowing to develop with absolute quiet your company, as it is one of the best software for cleaning firms. It is a supplemented solution that, together with the computer, allows the management of cleaning firms in all its aspects, as accurately and fast as possible. In this way, the entrepreneur gets always in real time all up-to-dated data concerning his activity, in order to be acquainted with the health of his company. It is very simple to utilize, and besides it does not require software or hardware knowledge, as we provide with a complete training course by your firm.

It works in the network, allowing to connect different offices simultaneously using simply a MODEM. It is besides tele-assisted, so that probable corrections or updating of the programme in any part of Italy are possible
Details »
Mio
MIO is an attendance detector that can be utilized in two different ways:

1) It can be provided directly to the worker
2) It can be fixed to wall in the yard

In the first case, a transponder will be installed. A detector will read it at worker's entrance and exit. In the second case, the worker has got a smart card to clock in and to clock out.
Details »